38 years ago, Minnesota rock legends the Replacements released Tim, their major label debut. It charted on the Billboard Top 200 and has since become a beloved alternative record that's spawned songs like "Swingin Party," "Bastards of Young" and "Here Comes a Regular." After spending nearly four decades unhappy with the mixing of the final result, the band called upon Tommy Ramone to give the sonic a makeover. Now, nearly 40 years later, Ed Stasium has produced a new mix of the project and it's being released as Tim: Let It Bleed Edition.
Due out September 22 via Rhino, the new edition of Tim is a 4 CD/1 LP boxed set featuring a record remix by Ed Stasium, previously unreleased studio and live recordings, an Alex Chilton-produced session and a complete 1986 concert recording.Pre-order Tim: Let It Bleed Edition here.
A Stasium mix of "Left of the Dial" is available on all streaming services now.
Tim: Let It Bleed Edition Artwork: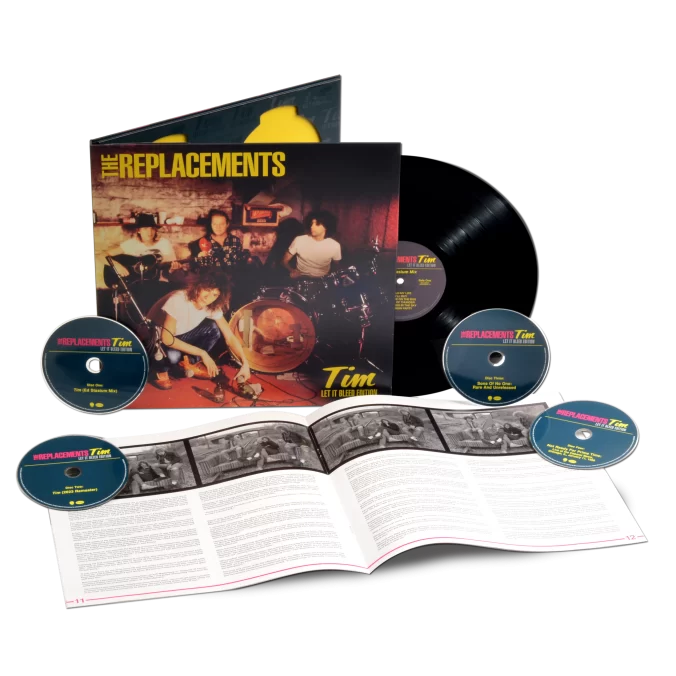 Tim: Let It Bleed Edition Tracklist:
CD 1: Tim (Ed Stasium Mix)
Hold My Life
I'll Buy
Kiss Me on the Bus
Dose of Thunder
Waitress in the Sky
Swingin Party
Bastards of Young
Lay It Down Clown
Left of the Dial
Little Mascara
Here Comes a Stranger
CD 2: Tim (2023 Remaster)
Hold My Life
I'll Buy
Kiss Me on the Bus
Dose of Thunder
Waitress in the Sky
Swingin Party
Bastards of Young
Lay It Down Clown
Left of the Dial
Little Mascara
Here Comes a Stranger
CD 3: Sons of No One: Rare & Unreleased
Can't Hardly Wait (Acoustic Demo)
Nowhere Is My Home (Alternate Mix)
Can't Hardly Wait (Electric Demo) [Alternate Mix]
Left Of The Dial (Alternate Version)
Nowhere Is My Home (Alternate Version)
Can't Hardly Wait (Cello Version)
Kiss Me On The Bus (Studio Demo)
Little Mascara (Studio Demo)
Bastards Of Young (Alternate Version)
Hold My Life (Alternate Version)
Having Fun
Waitress In The Sky (Alternate Version)
Can't Hardly Wait (The "Tim" Version) [Alternate Mix]
Swingin Party (Alternate Version)
Here Comes A Regular (Alternate Version)
CD 4: Not Ready For Prime Time
Live at the Cabaret Metro, Chicago, IL, January 11, 1986
Gary's Got A Boner
Love You 'Till Friday
Bastards Of Young
Can't Hardly Wait
Answering Machine
Little Mascara
Color Me Impressed
Kiss Me On The Bus
Favorite Thing
Mr. Whirly
Tommy Gets His Tonsils Out
I Will Dare
Johnny's Gonna Die
Dose Of Thunder
Takin' A Ride
Hitchin' A Ride
Trouble Boys
Unsatisfied
Black Diamond
Jumpin' Jack Flash
Customer
Borstal Breakout
Take Me Down To The Hospital
Kids Don't Follow
Nowhere Man
The Crusher
I'm In Trouble
Go
LP: Ed Stasium Mix
Side A
Hold My Life
I'll Buy
Kiss Me on the Bus
Dose of Thunder
Waitress in the Sky
Swingin' Party
Side B
Bastards of Young
Lay It Down Clown
Left of the Dial
Little Mascara
Here Comes a Regular